I got to use Datazen for the first time in anger with a client this week, and my experience was a bit of a mixed bag. There are elements of it which are neat but a fair few niggles.
Things to love
It's pretty. The simple visualisations mean it is easy to create a nice looking, uncluttered dashboard with minimal fuss and tweaking. The responsive design means cross device functionality is pretty good and looks nice. It's also quick to build and change content.
Quick learning tips
First up, let's get some practical learnings shared:
Use views or stored procs behind your data if hitting a SQL Source. Datazen has no query editor (just a big text box) and doesn't always handle parameters gracefully. Plus debugging is a pain as error massages are often less than helpful (e.g. "Data Preview Failed")
Set report friendly field names in you query as you can't always manage them in designer – sometimes you can, sometimes you can't.
Selecting the 'All' option on a Selection List Navigator sends back " (empty string) as the parameter value to the query, so handle that rather than NULL.
Now, some major drawbacks:
Consistency of cross platform behaviour is not great. I found some drillthoughs didn't work on iOS or Android. Windows 8 seems to be the go to client. It's not fatal but for fussy clients it's a hard sell that this cross platform tool doesn't work as expected.
The Win 7 Publisher app is unstable, buggy and seems to have features missing – such as proper configuration for report drillthrough. It's only been around a few weeks so it's forgivable but if you have to use it seriously, make sure you have a Win 8 client somewhere to do your development work on.
The charting is actually quite limited. There's no stacked bar, for example. Line charts can only be by time. Labeling and colours are pretty hard to control, often rendering components useless. A great example is the category chart (bar chart) – the renderer will sometimes decide not to display category labels – which then means you just have a nice picture of some bars with no context as to what each one is, like this: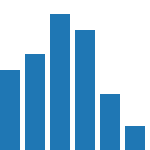 Finally some irritations:
These are some of the things that got annoying as I used the product – not an exhaustive list – and small enough I'd expect them to be fixed relatively soon.
You cannot update columns on a grid component if the underlying column names change – you have to rebuild component (a small task but annoying during development)
You cannot set the Low/Neutral/High ranges for gauge columns on indicator grids so they match settings for other gauges
You cannot align numbers – and they are aligned left which is not good dataviz practice
There is no handling for outliers on heatmaps so one extreme value will screw your shading
You can't cascade drillthrough to a level below
The data preview after creating a data view has no Scroll bar so if there's a lot of fields you can't see them
There are maps provided but you have to work out how they are keyed yourself so you can connect your data (to be addressed in a future post)
You can't "oversize" the canvas so phone users can scroll down.
Nobody's using it – or at least talking about it – so help is hard to find.
A lot of irritation boils down to "I want to set that but I can't". This I'm sure is partly design, partly product maturity.
My takeaway.
After a week with the product I get a real sense that it's not even a v1 product yet. Maybe v0.9. There's lots of niggles in the product – and not just at the back end where users can't see them. I could tolerate the back end weaknesses if the end user experience was great, but there's holes there. Still, there's a lot of good that can be done. It'll be interesting to see how it fares given PowerBI has such a huge feature overlap.